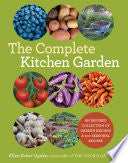 THE COMPLETE KITCHEN GARDEN: AN INSPIRED COLLECTION OF GARDEN DESIGNS & 100 SEASONAL RECIPES
A design and recipe resource with "all the tools to plan a productive garden before seeds ever meet the ground" (The Wall Street Journal).
Based on seasonal cycles, each chapter of this indispensible book provides a new way to look at the planning stages of starting a garden—with themes and designs such as the Salad Lover's Garden, the Heirloom Maze Garden, the Children's Garden, and the Organic Rotation Garden.
More than 100 recipes—including a full range of soups, salads, main courses, and desserts, as well as condiments and garnishes—are featured here, all using the food grown in each specific garden.