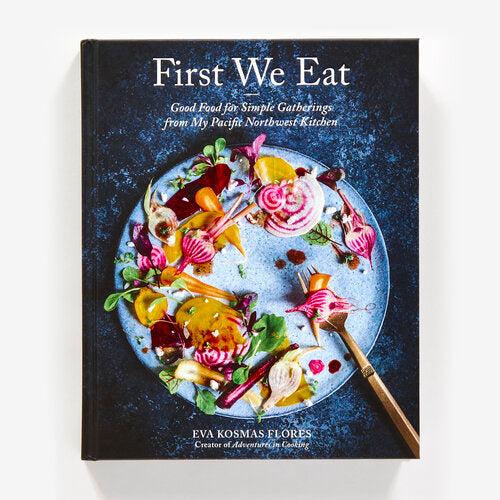 FIRST WE EAT: GOOD FOOD FOR SIMPLE GATHERINGS FROM MY PACIFIC NORTHWEST KITCHEN
Eva Kosmas Flores finds inspiration in her Greek heritage and the bountiful produce of her garden in Oregon. She uses both to craft her seasonal and approachable recipes, each paired with a mouthwatering image. The bounty of fresh, vibrant produce overflowing from her garden comes through on every page, and Flores undertakes rigorous recipe testing to share her most creative, delicious ways to make use of these foods. Showcasing her unforgettable, atmospheric photography style, First We Eat is a gorgeous reference on seasonal cooking that celebrates the beauty of the Pacific Northwest, Mediterranean influences, effortless and stylish presentations, and simple preparations, all designed to share with friends and family.
About the Author:
Eva Kosmas Flores is a recipe developer, photographer, stylist, and founder of Adventures in Cooking. She has been nominated for Saveur's Best Food Blog Awards for Best Original Recipes and featured in BuzzFeed, Glamour, Bon Appétit,The Kitchn, and more. Flores hosts travel-based photography workshops around the globe through her company, First We Eat, a podcast of the same name, and also hosts Secret Suppers, seasonally inspired pop-up dinners in her hometown of Portland, Oregon.